This is the third vintage bamboo fly rod my Dad left to me. I decided to delete this information from the Members Corner where I first posted it and put it here. Here is a better composite image. I can supply detailed images if they are wanted.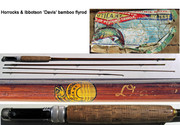 Since our moderator, 'fishnbanjo', characterized the label on this rod as 'older' I thought I would post it despite its deficiencies.
I did not attempt to assemble the rod, but the sections, laid out with the ferrules properly aligned gave a total of 8' 4" and not 9' which leads me to ask if the 'short looking' midsection might have been repaired, perhaps at a break at one of the ferrules? The distance from the uppermost snake guide and the female ferrule is 5"; is this normal? I see only 9' rods mentioned with the name 'Davis.' One of the top sections clearly broke near the tip-top. That is black, nylon bait-casting fish line, not black tape, on that section.
Any comments?
thanks
baumgrenze