Moderators: pmcroberts, uniphasian
---
---
#23
I've used one of these for two seasons now and like it a lot. Besides being a bit on the heavy side, the one drawback I've found is that rubber tip that's provided will wear through pretty quickly if given a hard workout in rocks. I ordered 3/4" replacement cane tips off of ebay that last much longer. They are wider at the bottom and the rubber is thicker and maybe tougher. These:
https://www.ebay.com/itm/Carex-Cane-Tip ... 2749.l2649
---
Bamboo Fanatic
Posts: 1269
Joined: 01/22/17 17:05
Location: Utah
#24
After seeing Mark's original post, I pulled the trigger on one and used it on the Grey's River last week. What a difference a staff makes! This was the first time that I used one. Although it feels heavy in the hand, I never noticed it while on the water for 6 - 7 hours per day. I highly recommend this staff.
---
---
#26
After a week on the Deschutes and a week wading on the volcanic rock in Yellowstone the rubber tip of my staff finally gave out. Lasted me about two years. Took 5 minutes and a nickel to fix and good to go. A great staff for us old guys wading where we probably shouldn't.
---
#27
Does anybody have a good idea for a retractor? the one I bought is not strong enough to hold the staff up, it comes all the way out due to the weight of the staff and the handle lays in the water.
Thanks
---
#28
NO ONE should go fly fishing without using a wading staff, no matter what your age is! That third leg may keep you from cracking your head open. Been there, done that! Or keep you from breaking a fly rod! Been there, and done that too! They are also good for beating off the farm dogs and cattle when fishing private farm streams. Been there, and done a lot of that! A nice strong lanyard is a bonus too!
---
Bamboo Fanatic
Posts: 1269
Joined: 01/22/17 17:05
Location: Utah
#29
After seeing that the recommended retractors were 25% the investment in the staff, I decided to forgo the retractor. The staff for which this post was started stays in the holder quite well. I think the risk of loss is very minimal.
---
#30
I have been using a telescoping trekking pole which collapsed recently. Ordered the Riverstick a few weeks back and tested it out the past two days - heavy duty - well engineered! Not the best of pics...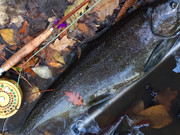 ---
---