One of the pleasures of my current base in Wales was finding a neighbour who is a collector of classic tackle. These days he concentrates on reels and lures but still has a few interesting rods. One is this wire wrapped specimen.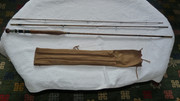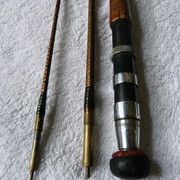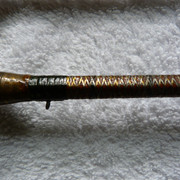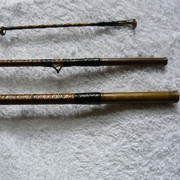 I have never seen one before, and my search of the Forum revealed only one reference to the wire wrapped rods that were produced by Foster Brothers of Ashbourne for a number of years in the late 19th and early 20th century, see
viewtopic.php?f=69&t=68644
I found a picture of one of these on
https://www.traditionalfisherman.com/vi ... hp?t=29669
but while the wrapping design is the same, the wire is different and, to me, it doesn't look like my neighbour's rod came from the same maker - but maybe it did.
Total length is 9' 7.5". The butt and middle are of equal length and the tip is exactly 1" shorter – not unusual on British rods, and it does not appear to be repaired or rewrapped. It weighs 9.25 oz, suggesting it has a steel core. There is nothing written on the rod or the bag, which appears to be original.
It has intermediate wraps the whole length of the rod, and over that is the intricate flat white metal wire wrap. Something to behold!
It has agate lined bridge rings (= guides) throughout. Overall the condition is pretty good. The stripping guide is off but present and needs rewhipping, and the ring of the guide has come off the bridge of the top guide on the middle section and needs soldering back.
The reel seat looks like it might be a replacement, as does the butt cap. The butt cap has a makers or vendors name: G. Shakespeare, Wolverhampton (which I couldn't capture in the photographs). I can't find any reference to a maker or dealer of that name, though there are people with the family name Shakespeare in that area.
Thanks and look forward to your diagnosis!