My friend, who is a lifelong resident of Stroudsburg, PA, sent me these photos. I know H-I had a rod named
Pocono in the early 1950s that was basically a 1-tip version of the Tonka Prince, usually wrapped in red with
a red plastic reel seat.
This rod has a metal reel seat with POCONO engraved in large letters. Looks like a 3-piece rod with a
signature wrap and a lot of intermediate wraps. Some wraps look red, others perhaps burgundy, and
some even darker (perhaps black).
Does anyone recognize the reel seat, winding check, or ferrules? Did H-I have an earlier rod also
named Pocono?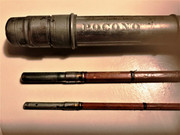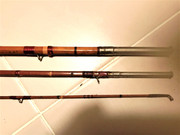 Thanks- Ken