I was in Reno for the opening week of Pyramid Lake. The buzz at the Reno fl;y shop was fishing was excellent so I decided to give it a try
Pyramid Lake is about 30 miles north of Reno NV. Located on the Paiute reservation, a tribal fishing permit is required. They can be pucrhased online or at the ranger station in the small community of Sutclef.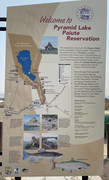 It's about a 45 minute drive from Reno to the lake. I tried to be there at first light. One would need to be careful in the winter time as icy roads are a possibility. Even in the dead of winter it is recommended to fish dawn-to-dusk as that 10+ lbr could come along at any time.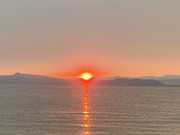 It's a big lake. The staff at the Reno Fly Shop was very helpful pointing out which access points might fish best in early October. Early in the season the fish are supposed to be deep. The access point should be within casting difference of the beach. I was using an 8wt graphite rod with a full sink tip (7 ips). I was the only person fishing a fly rod. The other people were casting jigs or plugs weighted down with banana weight. They said they don't start using their fly rods until November when the water cools and the fish frequent shallower water. Nov-Feb is using 330 grain shooting heads. March and April are balance leeches and chironomids under an indicator.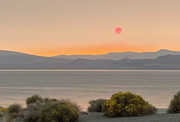 The 'regulars' don't start to get excited until a fish is larger than 10 lbs. This one was only about 5lbs. I had many more follows than takes. The young guy at the Reno fly shop said that's what makes it exciting. I said that's good for you, but my time here is very limited and I'd like more grabs.
I think the Pilot strain Lahontans are much stronger per pound than the strain stocked in Washington's Lake Lenore. One usually doesn't think of using an 8 wt rod for fish < 24" long but they proved to be a worthy adversary. I did see a picture of a 20 lbrs taken off a boat with a fly rod. The boats did quite well fishing jigs in 40'- 70' of water. Needs more research.