Check out this bunch:
I've developed an interest in this series ever since I was introduced to one of these little beauties. I haven't found a lot of information about them, almost none. Some sellers are referring to them as the lightweight perfects and they are lighter than their brothers, indeed. Several indications point to a period of production between WWII and 1950: straight line logo but still leaded, One of the reel makers is Thomas Wilkinson (T.W. 1934 – 1950), there is no mentioning in any Hardy catalogues which were not issued until 1951).
A closer look at the innards of these reels reveals their peculiarity: They are made from a non-standard lighter alloy and have a different lead finish than usual and also – instead of brass - alloy spindle, cog , cog pins, ball bearing housing, spring adjusting bar and central bush. Whether this was due to a lack of brass after the war or to intension to make them lighter, I don't know. But there must have been a parallel production with brass parts since I've seen a couple of them.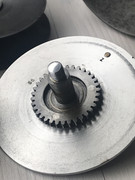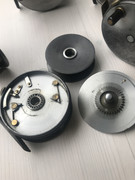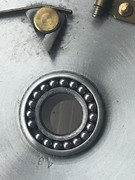 It must have been an intentional series. They all have serial numbers on all the three reel parts and they are in the same spot. Likewise there is a letter right next to the handle's rivet on the inside of the winding plate.
Besides the ones I own I have come across others in the internet, all together about twenty reels, mainly in the small sizes 3 1/8 up (no 2 7/8 found so far, but there's one on the big site right now, but with brass parts), only one 3 7/8 and one 3 ¾ (see pic). None of them had a number higher than 141, so I assume that the series would have around 150 – 200 reels each size.
There are reels with line guards but mostly without. The line guards are mostly in poor shape as you can see on the pics. I haven't seen identical serial numbers so far and guess that the ones with line guard were in the same series.
Remember the discussion about the "Z" reels? The letters on the winding plates are most probably maker's initials since there are T.W. (Thomas Wilkinson), J.R.J (Jack Jackson), J.S. (Jimmy Smith) and R.R. (Robert Richardson). Most of them show a Z and that makes me assume that Z was a maker of Hardy's, too, but unknown with full name.
I'd like to keep my research up and therefore I would like to ask all of you who own one of these reels to show pics with the identifications. Maybe we get more clues about this misterious series. So please if you have one show it!

Thx all
Urs