Found on FB. I know zilch about the fly but thought I'd share as it just looked kool.
A tad different imho. Included is the little bit of description...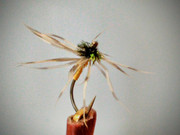 The Winter Brown as per John Pickard's manuscript of 1794..
I found this pattern in Robert Smith's great work The North Country Fly.
"Orange silk legged wi feather or neb of wood cock sholder.
Harled at head wi peacock"