Here is a ca.1900 Orvis fly rod (serial #396x) with bag and wooden tube I was lucky to acquire through this site. It is 10' with hanging ring guides and early red thread.
I am not sure what the "x" in the serial number means, but the rod has two odd features. First, not only was the serial number on all 4 wood sections (butt, mid and two tips) but was also written under the reel seat which I removed, as shown below. The serial number is not stamped on the German silver adjustable butt ring like the other two c.1895 rods we recently discussed (#147 and #210).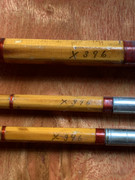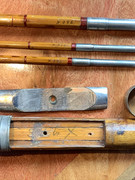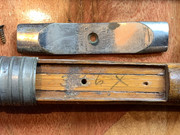 The second odd thing about #396x is that mid section came with a German silver "trumpet" guide to insert in to the end of the mid section ferrule, which in turn lets you make it into a fishable 7' rod. See photos below.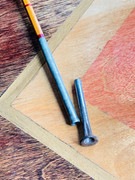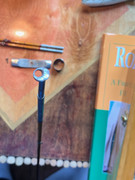 Finally, the Orvis painted wooden tube has the screw on top.