Moderator: TheMontyMan
Guide
Posts: 123
Joined: 10/14/06 18:00
#1
Can anyone tell me what the ferrule size is on the Leonard model 65L is.

Don
---
---
---
---
Guide
Posts: 123
Joined: 10/14/06 18:00
#5
Lee, have you every tried a 3 wt. on your rod
---
---
#7
I've got a 65L with an 11 ferrule. That's as near as I can tell using drill bits. (A 10 was small)
The rod was refinished in '07. I believe the hang tag was replaced then. The tag shows 2¾ oz. The actual weight is 2.95 - on my digital scale.
The maker that did the work considered it a 3 wt. – shown on the tube cap. When I bought it (from a dealer), it was advertised as a 3 /4wt. (He suggested a 4.)
Obviously, this is a very soft rod, still, I prefer a WF 4 - although I've only got a couple of lines to choose from. There's probably a 3 out there that some would like…. I use Hook and Hackle lines - if that tells you anything. (I've read some people say that HnH lines are a bit lighter than say a Cortland 444, but I've never done an intentional comparison.) And too, I prefer slower, deeper bending rods. Even so, it wouldn't occur to me to even try a 5 line.
When I bought it, the dealer warned that it's a specialty rod and not meant for any kind of wind, which was fine, because I was looking for a soft, small stream rod. It's actually more versatile than advertised - although a 2 pounder in a current is a fun problem. I guess a lot of people would consider this a wet-fly rod, but it's nice with dries up to a Catskill style #12; or a dry with a small, bead-head dropper. Ya just need a slow stroke (and no wind

).
Anyway, I really like it. I only own 10 rods, and love them all, but this would be one of 3 to never leave. (I'd like to compare it with a Payne 100L.)
I hope there's something here that helps.
Bob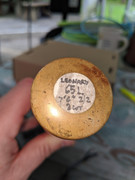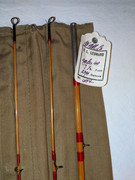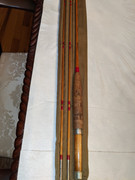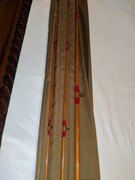 ---
Guide
Posts: 123
Joined: 10/14/06 18:00
#8
Now that's the Leonard I been looking for to complete my 2 piece 2/2 Leonard collection
The models I have are 66, 66 1/2 and 67, now I just need to fine one

Don
---
Bamboo Fanatic
Posts: 2687
Joined: 12/23/10 19:00
Location: Northern Virginia
#9
One&Duns, what's the stamping on the butt cap of your 65L?

Thanks!
---
---
Bamboo Fanatic
Posts: 2687
Joined: 12/23/10 19:00
Location: Northern Virginia
---
Guide
Posts: 123
Joined: 10/14/06 18:00
#12
Bob check your in box you have mail

Don
---