Well over a year ago, a friend and colleague who shares the fishing bug and who knows of my interest in bamboo brought a rod into the office that his dad found in an old barn. Although the decal was mostly gone, what was left of it combined with the bright red plastic reel seat spacer quickly identified it as a Montague Flash. It was in a canvas and leather spare barrel cover for an M8 from WWII, which led me to assume it was from soon after the war when they likely had surpluses of military supplies but when metal (for rod tubes [and guides, apparently]) was probably still in short supply. The rod had a full-length (for a 9-ft rod) butt with a stripping guide and a single full-length tip with 3 snakes and tip-top, along with a mid that was about 2" short from a break just above the male ferrule and had 2 remaining snake guides. The mid had a replacement male ferrule with a crack in it, both female ferrules were loose (but pinned), the DL reel seat end cap was loose and tilted, likely from over-tightening with a reel on it; also pinned, and the wraps and varnish were in kind of rough shape.
A few months later, my buddy asked me what it would take to get it back in fishing shape and whether I could do it, and that he thought it would be neat for his son to fish with it. I replied that I'd been meaning for a while to teach myself some rod restoration skills and to pick up a few tools and supplies to work on the half-dozen or so cane rods I have that need a little attention to be stream-ready, but at that point I'd only re-wrapped a guide or two on modern rods and my only experience on cane was with stripping bad varnish from on old Heddon and reapplying spar varnish with a brush. I told him I'd try, but no promises on when and what the results would be.
I eventually ended up putting an order for tools and supplies to Golden Witch, and I posted "Wanted to Buy" requests on this forum for a full-length mid and spare tip, (17/64 and 11/64 ferrules) and later for a metal tube. I was again amazed by the helpfulness and generosity of folks on this forum, and I especially would like to thank members Hap and Red, who both sent me full matching RODS, and Flyfish 1952, who sent me an era-appropriate tube - each sent to me for the cost of shipping and/or a dozen flies! I was blown away, and their contributions allowed me to finally get around to trying to refurbish my buddy's rod. I also contacted Bob Selb, who sent along a couple Montague self-adhesive rod tube labels that he made up from an old (late 1930s?) catalog cover. Wow!
This was the first complete strip, rebuild, rewrap, refinish job I've attempted. I removed all the guides, tapped pins to remove the loose female ferrules and the reel seat end cap, used CitriStrip to remove the old varnish, repaired and reglued the broken reel seat plastic then remounted and repinned it, reglued and repinned the female ferrules, then switched out the stripper for an old agatine one I had from another rod and repositioned it. I replaced the missing hookkeeper with one I had, and I put 4 snakes on the mid and 5 on each tip hoping to improve castability with the addition of 3 extra guides. I rewrapped with Kimono 100 silk in red (#318,) and gold (#303), used U-40 ColorLock as described by Russ at Golden Witch - was going for a Washington Redskins color to be close to the original wraps, but ended up more Kansas City Chiefs. I added decorative wraps at 16" and 20", then coated the wraps with 4 coats of spar urethane first diluted then full strength, and rubbed the cane with two coats then polished with stock sheen. I had an old sock from an 8.5- foot rod that I stitched up, and, after lawn-casting with both a DT6 and DT7 Sylk line, I loaded an Ocean City 77 reel I had with the 7-weight and sent the whole thing, along with some info from Sinclair's book and the rodmakers/value section of the forum, along with an extra copy of "Casting a Spell" to my buddy. He was happy with the results and soon after sent the two pics at bottom below of his son catching a nice rainbow on the rod from a pond near Lewistown.
Definitely a trial-and-error, learn-by-doing, adventure, but totally worth it to see the big smile on Hatch's face!
Thanks again Hap, Red, Flyfish1952, and Robert Selb!
Cheers,
Jim
Before: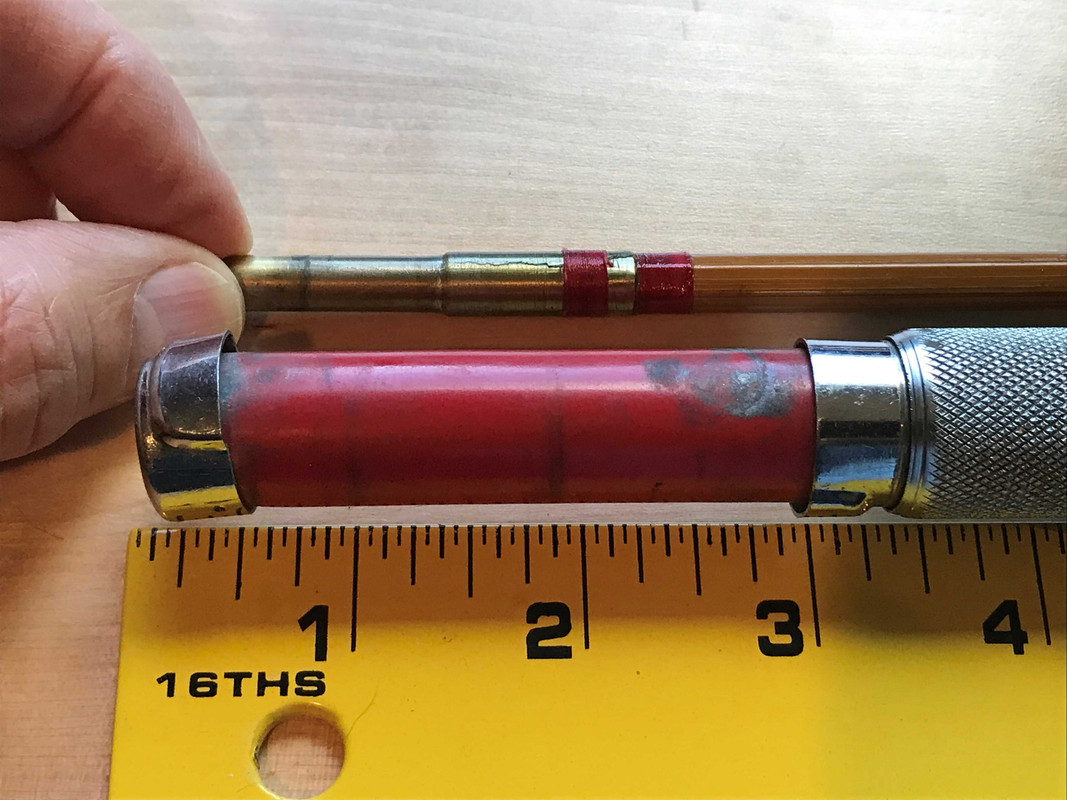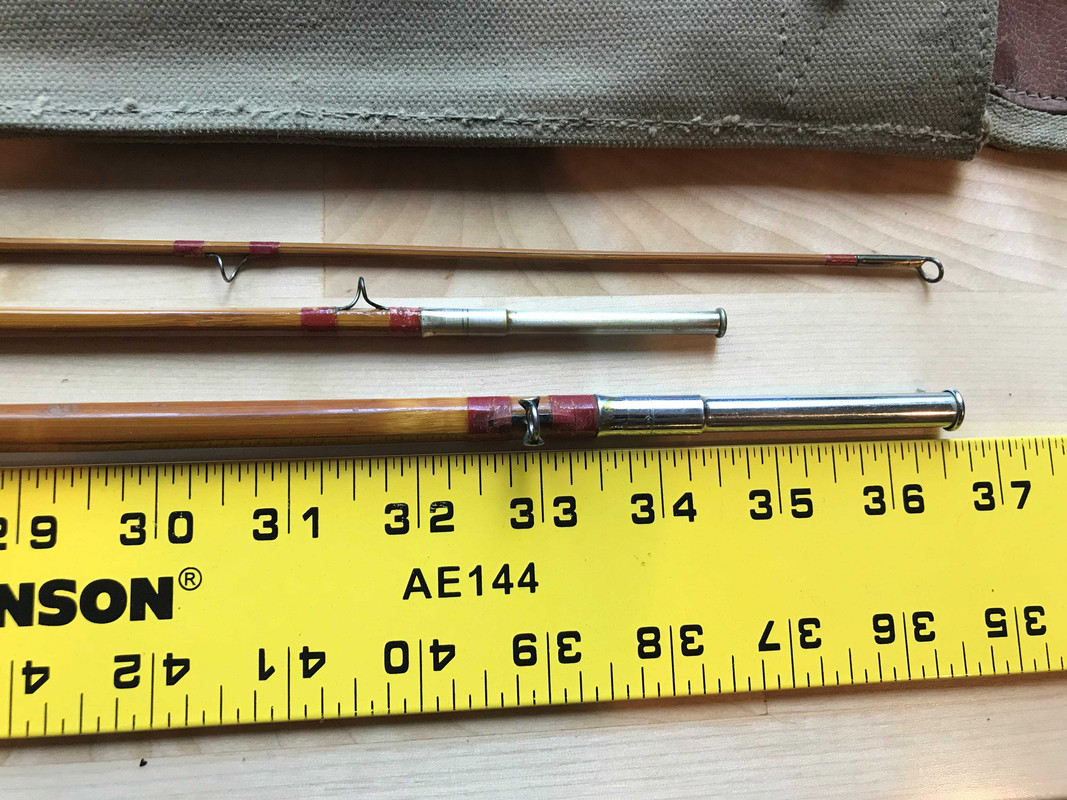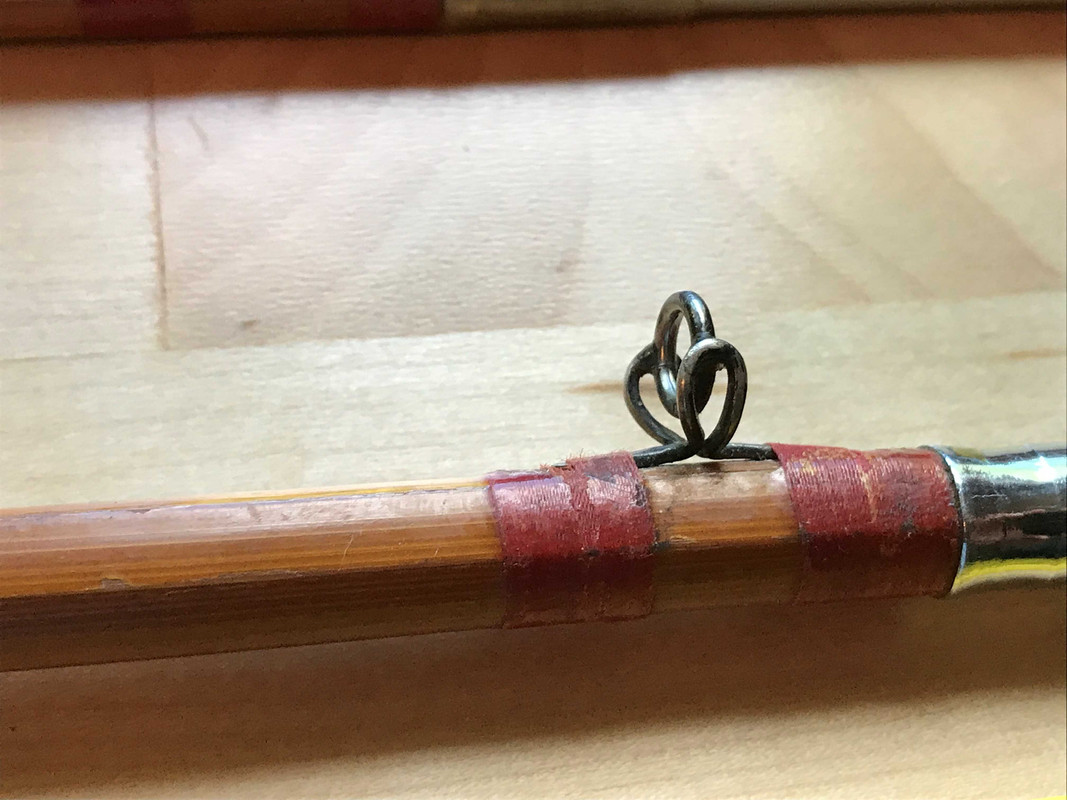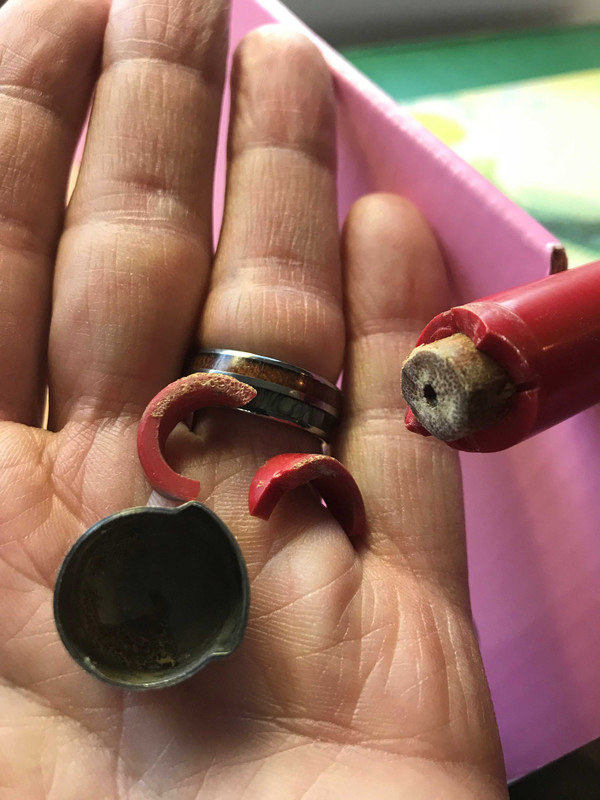 After: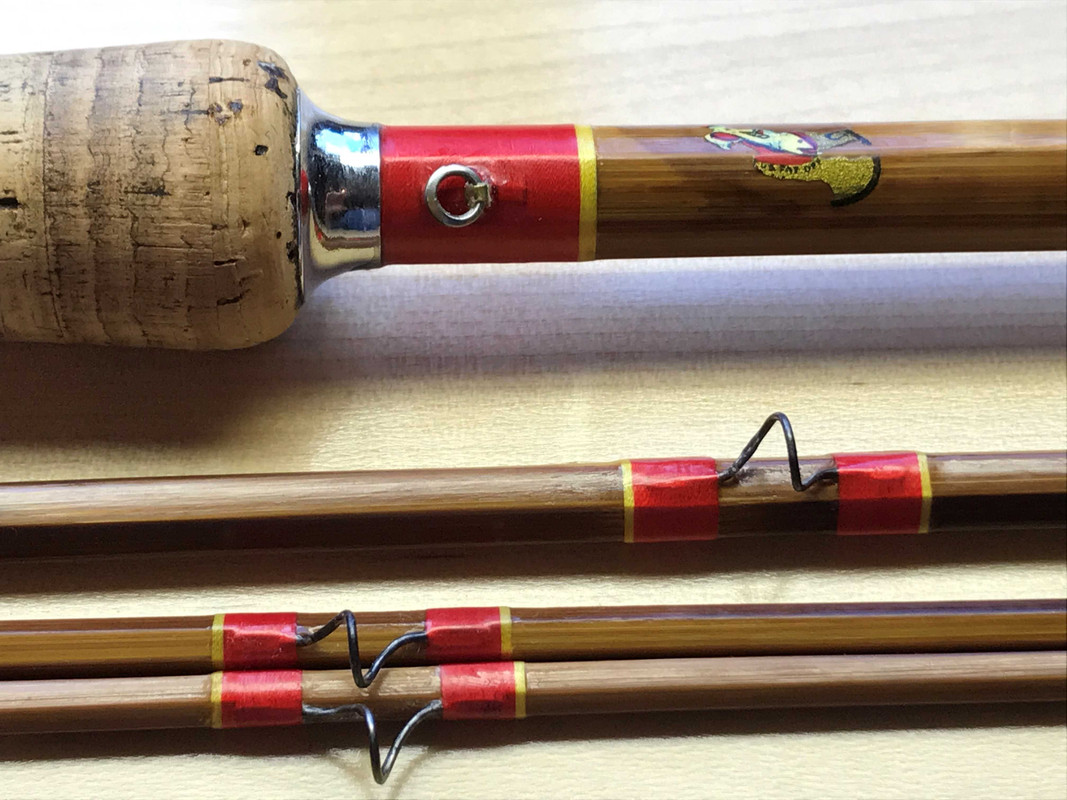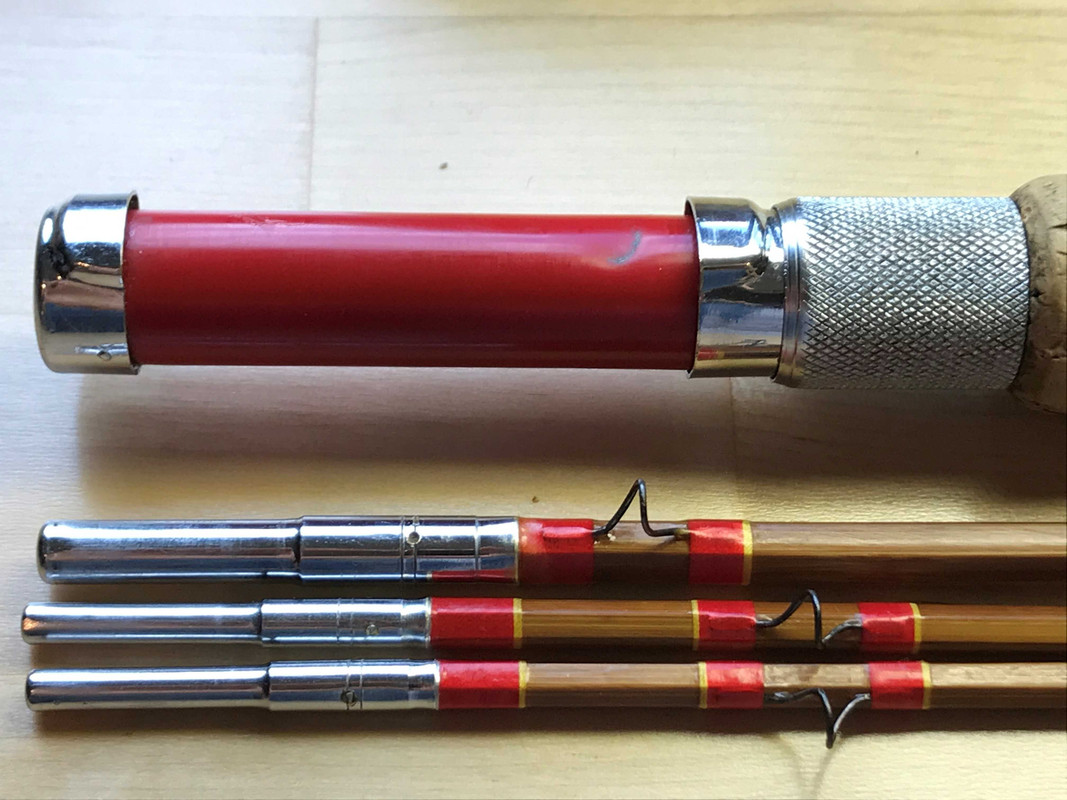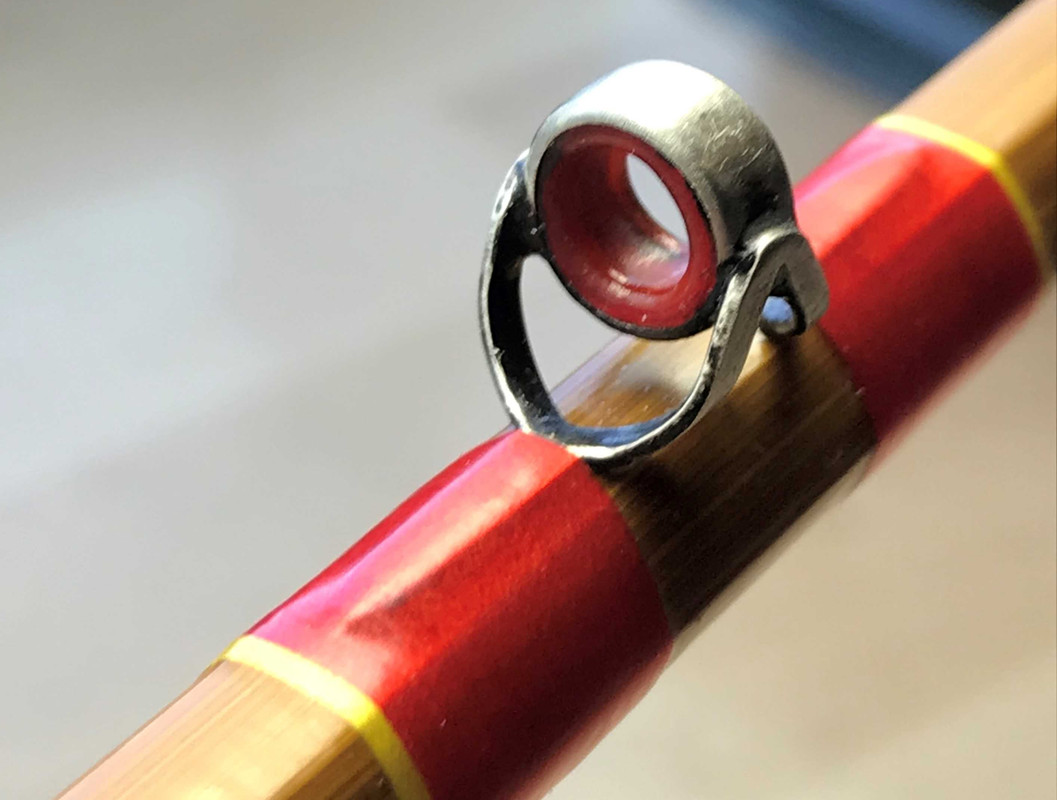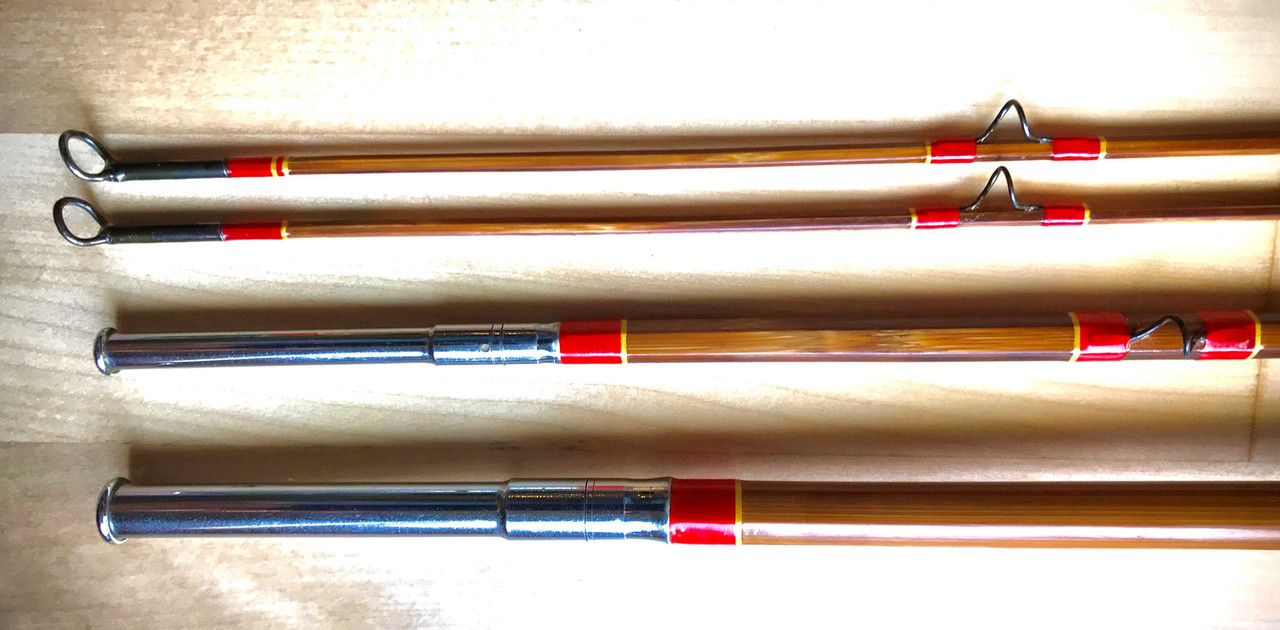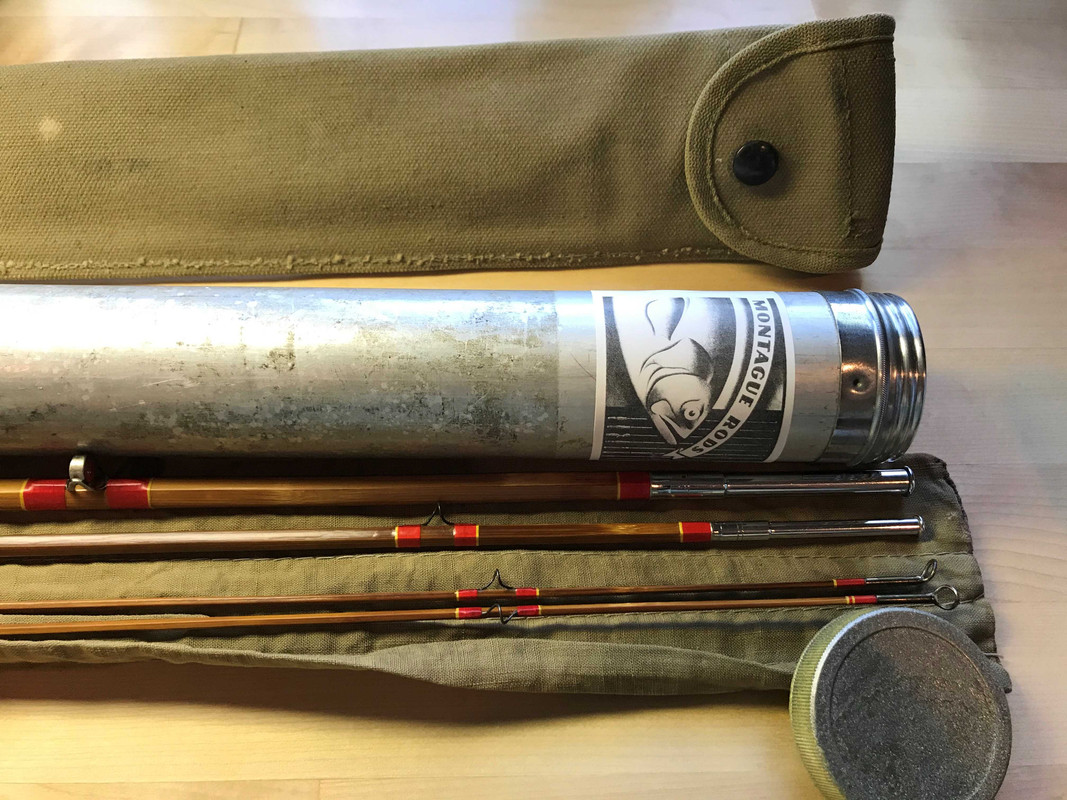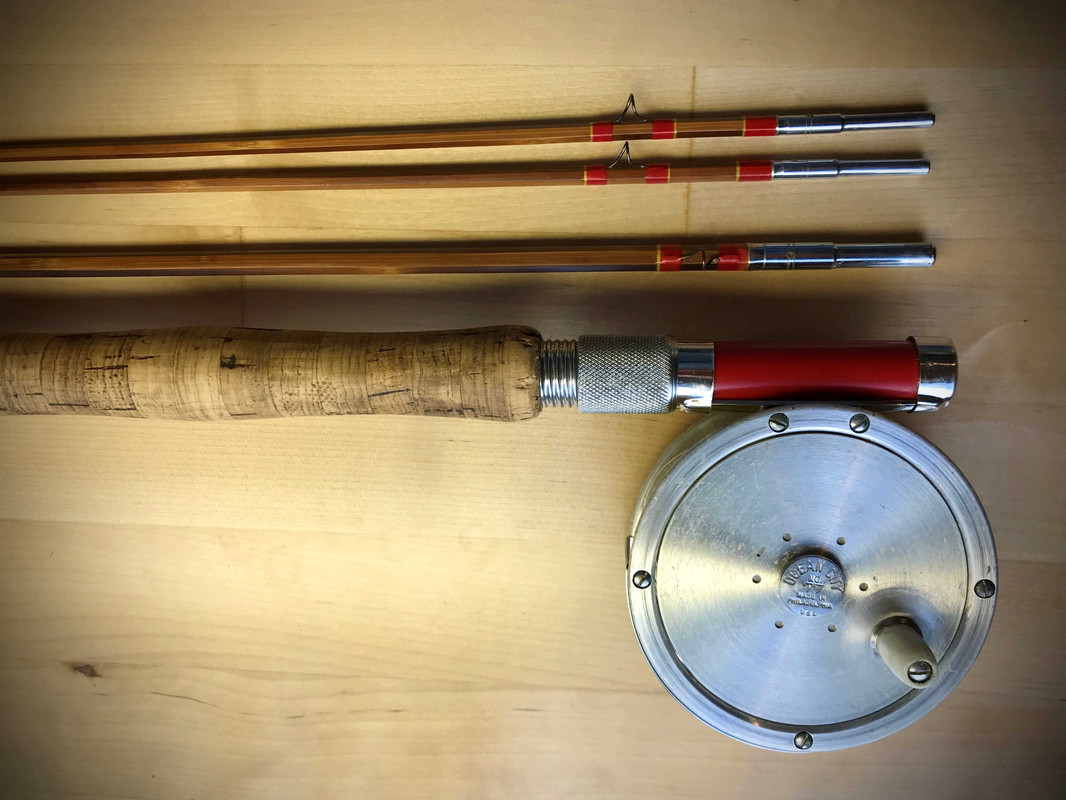 Worth it: