Pearsall's Gossamer silk tying-thread is sadly no longer made & is increasingly difficult to find. This Size-A silk thread had been traditionally used to tie soft hackles, flymphs & full dressed salmon flies.
While searching for hard to find Wapsi mink & pine squirrel Zonker strips on the flymart.ca web-site, I chanced upon a French tying silk of similar thickness, that's wound on standard-sized spools, 100 meters in length.
https://flymart.ca/product/4661/ephemer ... ing-thread
I ordered a spool of this "Soie Ephemera" Orange # 625 to try out. The colour # 625 looks similar to the Pearsall's Orange 6A, that was used to tie the Orange Partridge. Ephemera's wooden spool fits my Tiemco bobbins. No need to use a special Matarelli mini bobbin.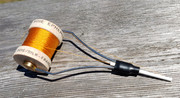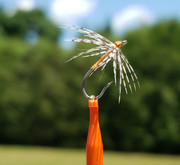 an Orange Partridge tied with Soie Ephemera
When wet, the French silk almost has the same shade of orange as the Gossamer 6A colour. Ephemera silk does not come as tightly twisted as Gossamer silk (was).
Any folks on this forum tie with old Gossamer or another type of silk thread?
Any here have used this brand of silk?